Sometimes, when I'm driving, I'm so busy looking at the blooms and the green working so hard to show up, that I'm surprised I continue to drive straight on the road.
Sometimes, I don't.  But that's our secret.
I just wanted to pop in here to tell you a few pieces of VITAL information.  First of all, if you'd like a chance to win a Team James & Jake shirt, you can do so by simply leaving a comment here.  The giveaway ends tonight, although, since I'm in charge, I'll extend it until tomorrow.
I like being in charge.
Secondly, my dear friend Christy is still hosting a giveaway from one of my prints in my shop, her giveaway ends on Saturday.
She's a nice girl.
Also, if you make a purchase from my print shop, ALL of the proceeds will be donated to Team James & Jake.  I have already donated EIGHTY DOLLARS thanks to the sales that have already take place.  It's so fun and so meaningful to see all of you shopping and some of you buying.
I love my shop and I'm so glad I did this.  All proceeds will continue to be donated through April 30th.
If you'd like to place an ad button on your blog for my print shop, you can do so by placing this button in your sidebars. (you guys are the best, I swear.)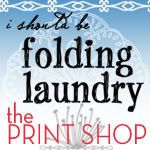 If you'd like the code, just email me at foldinglaundry (@) GMAIL dot com.

Team James and Jake has raised over $6,000. We are effing awesome.
Don't you think?
And finally, I posted over here.